If you have a Minecraft server, it is very important to make a good website for your players. Websites act as a central hub for your players to access information about your server, to manage donations, and for attracting new players. There's a lot of extras you can include too such as 3D server maps, highscores, and more.
Nowadays it's really easy to set up a Minecraft server website with free Minecraft website builders like Enjin. They will setup your website with loads of features and connect it to your game server. There's little excuse not to have a website for your Minecraft server.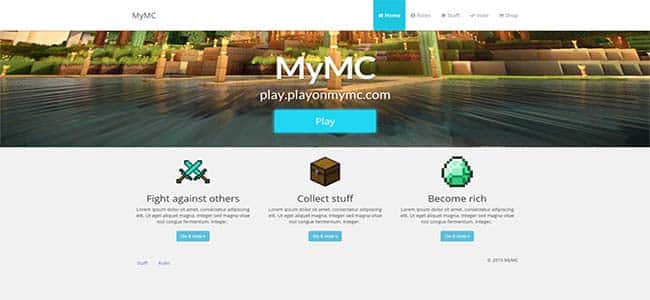 Website Builders
Enjin is the most popular and free way to setup a Minecraft server website. It does practically all of the work for you, and includes features such as:
Forums for discussion and news posts
Integrated donations shop
Voting links for rewards
Server status, including online players
Wiki pages to explain how your server works
Mobile compatibility and app available
Custom domains (use either .enjin.com or .com)
Although Enjin is free, you have the option to pay for additional features and it's easy to upgrade using donations at a later time. I recommend using Enjin if you're looking to setup a quick Minecraft server website with all of the essential features.
Forum Software
Another option which could be more complicated is to use forum software. XenForo is probably one of the most popular ones used in the Minecraft community due to its sleek and modern appearance. It looks great and professional but the biggest downside is cost, coming in at a whopping $160 one-time fee. I think it's something to consider down the line once you have more donations and can afford it.
You will also need to pay for website hosting which can range anywhere from $3 to $15 a month or so. I recommend Siteground for forum-based website hosting. They are pretty reasonably priced, starting at $3.95 per month (after their automatic first-year discount) and the quality is incomparable to anywhere else for that price.
Things To Include On Your Website
Regardless of how you decide to setup your Minecraft server website, I recommend having the following available for your players:
Features: There should be a page or wiki describing what makes your server different from the others. Why should new players join your server? A features page is a way to convince people to join.
Server Information: Your website must include the IP and any other special instructions on how to connect and play. The IP should be listed in a prominent place, and preferably visible on every page. A server information page can also include statistics on different worlds, players connected, uptime, etc.
Donations: Every server should have an option for players to donate and help the server expand. Donations can be spent on advertising, upgrading hardware, staffing, and so on. Don't forget to reward players with perks for donating. If you use a website builder like Enjin, a donation shop can be setup in a matter of minutes.
Voting: Server Top-Sites are a good way to advertise your server with the help of your players. Put voting links in a prominent area of your website and reward players for voting with things like diamonds or points.
3D Map: Dynmap is a Minecraft server plugin that creates a beautiful 3D map available online. Players find this map extremely useful as they can find biomes and places to build on it. Careful on PvP servers, as it can be abused to locate and kill players (although it does have a hide command).
Minecraft Server Website FAQs
How do websites connect to the Minecraft server?
With the help of server plugins, a website can display information such as server status, players online, and live maps. Server plugins also allow for things such as automatically rewarding players in-game for voting or donating.
Why make a website if I can include all the information in-game?
Websites are important for convincing new players to join and continue playing. I have joined many servers where I don't understand the features and there is no documentation on the website on how to play. Also, features such as donating, 3D maps, etc. are best done on an internet browser.